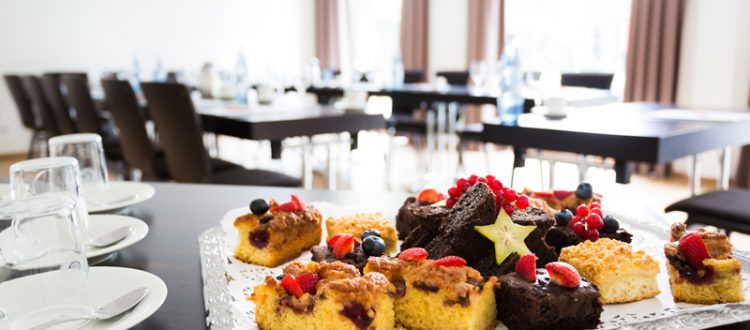 "Colonia"
Coffee and tea specialities at any time for self-service

Breakfast Break
Alternating sweet and savory snacks
Lunch Break
Three course business-menu or business buffet (at chef de cuisine's option) with water
Our chef de cuisine offers daily varying international dishes and rhenish specialities
Coffee Break
Alternating sweet and savory snacks
Conference equipment and furnishings
This flat charge contains a convention room regaring to the number of people, as well as the space rent and the chosen setup. Blocks, pens and a blotting pad are laid out ready for each conference guest.
1 Beamer
1 Flipchart with 10 sheets and pens
1 Pin board with pins
Free Wi-Fi for every guest
Full-time (bookable from 4 hours): Price per guest: 44,50 €
Part-time (bookable up to 4 hours): Price per guest: 30,00 €
Our flat charges need to be combined with a beverage lump-sum and requires at least 8 persons to be booked.
Please contact us if you want an individual offer for less than 8 persons.
All prices include the value added tax and the service charge.